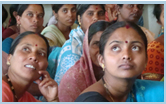 Shramik Abhivrudhi Sangh (SAS),
Popularly known under one of its units Jana Jagaran, is a social action wing of the Goa Jesuits. Fr. Joseph Chenakala S.J., is its chief executive. SAS activities are concentrated in Belgaum and other districts of north Karnataka and Kolhapur district of Maharashtra.

SAS is an experiment at the grass root for transforming unjust structures of society. It aims at building harmonious communities of diverse peoples, religions, languages and cultures with access to basic necessities of life in a clean and healthy environment.

Staff
Two Jesuits, forty social activists and many part time animators are actively involved in carrying out the various activities of SAS. They are sustained and enriched by being with the poor and sharing in their struggles, joys and hopes.

Mission
SAS fulfills its mission in constant dialogue with the religions and cultures of people in its area of operation. It works in collaboration with individuals and groups committed to the empowerment of the marginalized. Table fellowship, common celebration of religious and national festivals, advocacy and networking on human rights, livelihood and environmental issues are SAS's way of community building. It initiates a process of critical reflection and action on the prevalent socio - political and economic situation. SAS dreams and works with the people for the creation of a better world.

Fr. Joe Chenakala SJ speaks to THE VOICE


Family Get-together at Jana Jagaran

Christmas season is a time for sharing joy, peace and love and creating an atmosphere of joy, peace and love everywhere. Jana Jagaran (JJ) celebrated the joy of Christmas along with its staff and their families and its well wishers on 30 Dec 2015.


The celebration was all the more colorful and rich because JJ used the occasion to honour Mr Yeshwant Bhandurge, who celebrated his silver jubilee of selfless service through JJ among the weaker sections of society.

The celebration started at 10.30 am with holy Eucharist. The theme of the Eucharist was family life and values as lived by the Holy Family of Nazareth. In the homily Fr. Joe Chenakala dwelt on good family values and how good families create a better society and community. The Eucharist was in Marathi and the choir sung in Kannada. It was a

wonderful blend

of both the languages of the people of Belagavi region. The majority of participants were of other faiths and they took part with great devotion. In the introduction the meaning and purpose of the entire celebration was summarily explained. Thus all those present had a memorable opportunity to be witnesses and participants in the Catholic way of prayer and worship.
After the Eucharist light refreshments were served after which everyone gathered in the hall to congratulate Mr Yeshwant and to celebrate the JJ Family Day. The program stated with a Marathi hymn sung by all. Then Mr L D Patil welcomed those present and especially Mr Yeshwant and his family. Later Yeshwant was felicitated by cutting of the jubilee cake, offering of shawl, fruits, flowers, silver jubilee memento, sanmana pathra and a cheque of Rs. 25,000.00.


Mr Piraji, Mr Rangi, Fr Tom Chenakala and other JJ staff congratulated Yeshwant on his dedicated social service and shared their personal experience of working with him. Bishop Rt Rev Dr Peter Machado added joy to the occasion by his gracious presence and inspiring talk in which he highlighted the challenges a social activist has to face. The function concluded with a sumptuous meal prepared by JJ staff Mr. Alex Fernandes. JJ is proud to have a jewel of a social activist who walks the talk in the person of Mr Yeshwant Bhandurge.